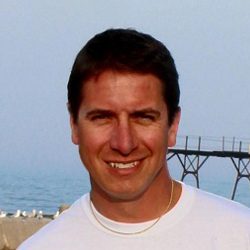 Captain
Troy Mattson
Originally a "flatlander" from the State of North Dakota, I have been an avid outdoorsman my entire life.
I have spent the last 28 seasons fishing the legendary waters of Algoma, Wisconsin, Winthrop Harbor, Illinois, and the bay of Green Bay. I am a proud husband (with a very understanding wife) and dad to two awesome girls. I am completely "obsessed" with the salmon fishing industry. I enjoy every aspect of the business, as there is truly never a dull moment! I am committed to giving customers a great experience and want to show others why we love this Great Lake!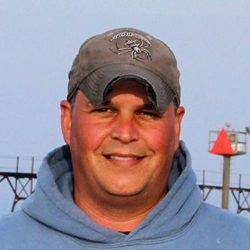 Captain
Bret Cook
Fishing in the mid 1990's took an abrupt change for me when a job opened up on a local charter boat owned by a friend.
By the year "2000" I was affiliated with Lake Michigan's #1 charter operation, Kinn's Sport Fishing. Partnering up with the legendary Howard Kinn proved to be an invaluable and adventurous experience. Providing you a high quality, fun, and safe Lake Michigan Salmon fishing experience is something myself and crew take great pride in. Huge Kings, leaping Steelhead, and pulse Pounding Browns are just a few of the highlights you will experience with us here at Kinn's Sport Fishing.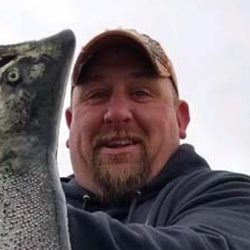 Captain
Bryan Wiesner
I have been active in the outdoor world and competitive sports my entire life.
My enthusiasm for the outdoors had me wading in streams in Door County Wisconsin from a young age battling line screaming Kings. I started my career in 1986 getting my first job with my uncle as a first mate, and later obtaining the coveted USCG Master license. My passion for fishing has turned into a life career, I hope that you can find the same passion as I do and come fish the Big pond for memorable experience you won't soon forget. Hope to see you on the big pond!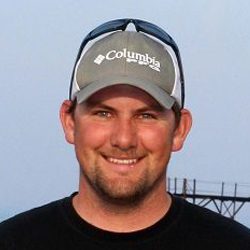 Captain
Alex Ackerman
At the age of 13, I started my voyage with Kinn's Sport Fishing, and never in my wildest dreams after 10 years did I think I would still be working for this awesome company.
I started hoping to just do some part time work for a little cash in the summer. After about the first week, there was no more "part-time". It was all or nothing. I have been a captain now for 5 years and have enjoyed every minute-the customers and the people are incredible. I also am a graduate of Lakeland College with a degree in business management. I hope to see you on the Obsession IV this year and for many years to come. There's nothing like reeling in hi-flying steelhead and screaming kings.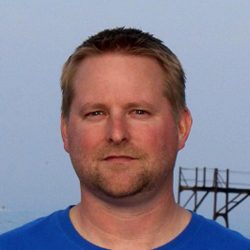 Captain
Steve Luedke
Living in Algoma almost my entire life has given me the opportunity to fish Lake Michigan ever since I've been old enough to hold a rod and reel.
Being a Captain allows me to share this great resource and I love the challenge of putting our clients on the fish. You can expect nothing less than a 100% effort from our crew at all times. I'm married to an extremely understanding wife and have two great little girls who are already showing a love for the water. I have a Business degree from St Norbert College. My job has taken throughout the US and various countries around the world and I can honestly say that's its tough to beat the view from the back deck of the boat when the sun is just starting to rise and there's bent rods and screaming drags from our King Salmon. I look forward to seeing you on the water!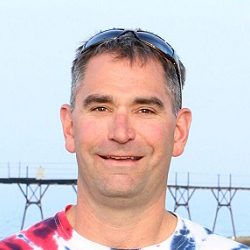 Captain
Bill Classon
Having lived all my life in Algoma, I have been able to spend a lot of time fishing Lake Michigan.
I have been fortunate enough at the age of 13 to be working on the back decks of the Kinn's Sport Fishing fleet. Now as a captain of 10+ years myself, I have been able to put to use all those things Howard had taught me. Over the years many things have changed in the sport fishing industry, but one thing has remained the same, my commitment to giving my customers a successful trip and a Lake Michigan fishing experience to remember. I hope to see you this summer on the back deck of Kinn's Katch to see for yourself the incredible salmon and trout fishing Algoma has to offer.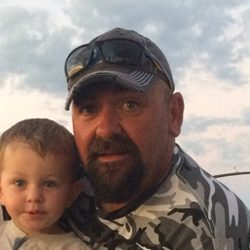 Captain
Brad Wiesner
Fishing hunting and the outdoors have been a passion of mine since childhood.
I've been fishing on Lake Michigan for the past 30 years for the last 15 I've been lucky enough to call it my job I'm very eager to be joining the Kinn's fishing fleet as a captain on the Battalion 1, a very state of the art very well equipped fishing vessel for Lake Michigan with plenty of room for your family's or friends hope to get a chance to meet you for a couple of fun filled days of angling on Lake Michigan.
Captain
Kory Nell
Having being born and raised right here in Algoma, I have been able to spend many hours on the lake since the time I was able to walk.
I am truly blessed to have some of the best fishing the Midwest has to offer right here in my backyard. It has always been a goal of mine to follow in my father's footsteps and become a captain on beautiful Lake Michigan. Along with fishing on Lake Michigan my entire life, I have been working on Charters for the past 9 years and have the knowledge to handle anything the lake can throw at us. I am not only committed to doing everything in my power to put fish on the back deck, but also to providing my customers with a safe, fun, and memorable trip. I look forward to seeing you on the water in the near future!
Captain
Richard Stephenson
I've been charter fishing for over 30 years now. I'm married to my best friend of 25 plus years Michelle, and have 3 wonderful children Anna, Andrew, and Ashton.
Fishing is my life and I will always do my best to insure not only a pleasant experience with me but also return safely to the dock. Hope to see you soon!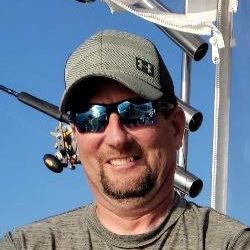 Captain
Jason Charles
I grew up on a farm just outside of Algoma and fell in love with Lake Michigan at a very young age. At about the age of 18 I had the opportunity to mate on a charter boat for Kinns.
I was hooked, From that point on I knew that one day I would captain a boat on lake michigan. I met a lot of great fisherman back then including, Troy Mattson and Bret Cook. Who knew that eventually they would buy kinns sport fishing and turn it into the premier charter on Lake Michigan. Very happy to have been offered the opportunity to come back to the company I started with so many years later, and pursue my passion for fishing among the greats. Look forward to seeing all the return customers and new ones as well.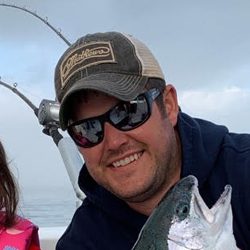 Captain
Casey Groessl
Having lived in Algoma and raised along the scenic shores of Lake Michigan my entire life, I was fortunate enough to not only grow up in one of the greatest sport fishing ports the Great Lakes has to offer,
I have spent many fishing seasons on the lake, beginning at the age of 12 under my first Captain, Troy Mattson. I fished the summers for much of my youth until deciding to take a break to finish high school and attend college. Life took me in a different direction for several years, where I received my associates degree in Fire Science from Fox Valley Tech, married my best friend, and started a family. My passion for fishing and the great outdoors eventually led me back to the Lake, working to provide you with the fishing that I love and the experience expected from our clients. As your Captain, I will continue to work hard to get our customers fish, but also a fun, safe and memorable trip they will want to repeat year after year. I look forward to seeing you on the water!
Captain
Steve Weihing
Fishing has been my passion for my entire life. I grew up in Appleton and as a kid used to ride my bike down to the Fox River to fish.
As I got older and could drive I was able to venture out and try out all kinds of new waters. I chased fish wherever I could find them, whether it was a local pond, Lake Winnebago, Lake Michigan, or anywhere else, I couldn't get enough of it. I was very fortunate to be self-employed throughout my life. This allowed me plenty of freedom to take trips to Canada and many other fresh and saltwater locations, yet throughout it all one of my greatest loves has been fishing the Great Lakes for salmon and trout. I have a wonderful wife and two grown daughters who allow me to pursue my fishing dreams and even accompany me on many of them. Over the thousands of hours that I've fished with them and many other friends and family I've learned that I get more enjoyment out of helping someone else catch fish than I do if I catch them myself.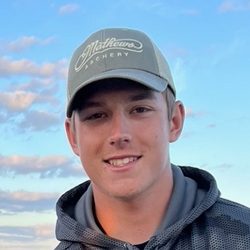 Captain
Carter Zimmerman
I started fishing for Kinn's Sport Fishing at the young age of 13. The first time I stepped foot onto the dock, I was immediately hooked on the charter fishing and the atmosphere it brings.
I have recently obtained my USCG 6 pack license and am excited to start my captaining adventure with Kinn' Sport Fishing. I look forward to sharing laughs and memories with those of you that fish with me.
Captain
Montana Diehm
I've been fishing the waters of Lake Michigan since 7 years old with my father and don't get me wrong I enjoyed reeling in the fish at the time,
but once I started charter fishing I realized there was more to fishing then just that and that it was a passion and I'm fortunate enough to be able to call it now my job. My number one goal every time I go out on the water during the trip is to not only produce fish but also make a connection with the customers and make there trip the best it can be. Hope to see everyone soon.