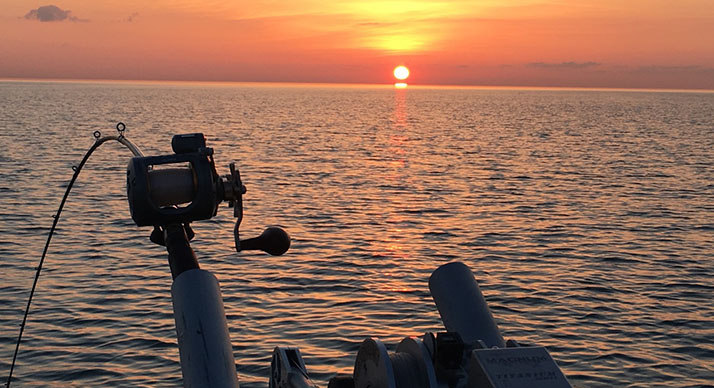 Interested in booking a trip? Choose your location and fill out the form below, including all required fields, and we will contact you as soon as possible.
---
Kinn's Sport Fishing is locally owned and run by Captain Troy Mattson and Captain Bret Cook. Our company was founded in Algoma, Wisconsin in 1969 by the late Howard Kinn. The company was the first in the industry to begin offering Lake Michigan fishing packages in Algoma WI, Sturgeon Bay WI and Winthrop Harbor IL that included salmon fishing trips, lodging, and licenses.
---
The Finest in Spring Trout & Salmon Charter Fishing
701 North Point Dr, AB Dock, Winthrop Harbor, IL 60096
April 15-30
Starting in April as warming temperatures begin on Lake Michigan's western shores, Large numbers of Cohos and Steelhead begin on the hunt for schooling alewives. This is clearly the best time of year, if catching lots of salmon is up your alley! You will have to book early if "Catching Limits" of Coho and Steelhead are what you want. In addition to fun, these are the best eating fish of the season!
May 1-31
This is simply the best time and place for "Fun Fishing" as all species of Trout and Salmon are active and concentrated close to shore. We should experience nearly a 100% success ratio here on "Limit Catches" again. Book early as this will fill fast!
Click here for the Winthrop Harbor IL marina map
---
Wisconsin's #1 Port Trout & Salmon Charter Fishing
60 Steele St, Slip 23, Algoma, WI 54201

May 20-July 15
This is on of our most consistent fishing periods of the season. This is an excellent time for all types and sizes of Trout and Salmon.We see large King Salmon in addition to excellent mixed bag catches.
July 16 - August 31
The Chinook Salmon have grown a little larger and by the end of August and are getting ready to enter the streams to spawn. We continue to experience excellent catches of Chinook Salmon and Brown Trout in addition to the ever popular Steelhead trout fishing.
September 1 - October 15
September normally offers the best chance for a very large Chinook Salmon as they are at their peak size. They are now available in shallow water. We also take some nice catches of Steelhead and Salmon late in September and into October.
Click here for the Algoma WI marina map

---
Sturgeon Bay - Deluxe green bay packages
3600 County Road CC, Dock 4, Sturgeon Bay, WI 54235
April 15-May 1
If catching the walleye of a lifetime is something on your bucket list, please grab a sharpie and get ready to cross it off that list! We are now offering a truly memorable, one of a kind trophy walleye trip. Time for a wall hanger, although this time period is primarily catch and release it is hands down the best time of year to catch a fish of a lifetime! Book early to get in on this action!
May 1-31
Our walleye fishing has been nothing less than fantastic! Due to an extremely high demand we will be adding a 3rd boat to our Door County location. This will give our clientele an opportunity to see what Door County and the Bay of Green Bay has to offer. Pre and Post spawn walleyes will be targeted at night giving you a unique fishing experience. 36ft sport fishing vessels will ensure a comfortable, dry, warm ride, as you seek chunky walleye under the Door County moonlight. Condo lodging comes standard with your walleye package trip!